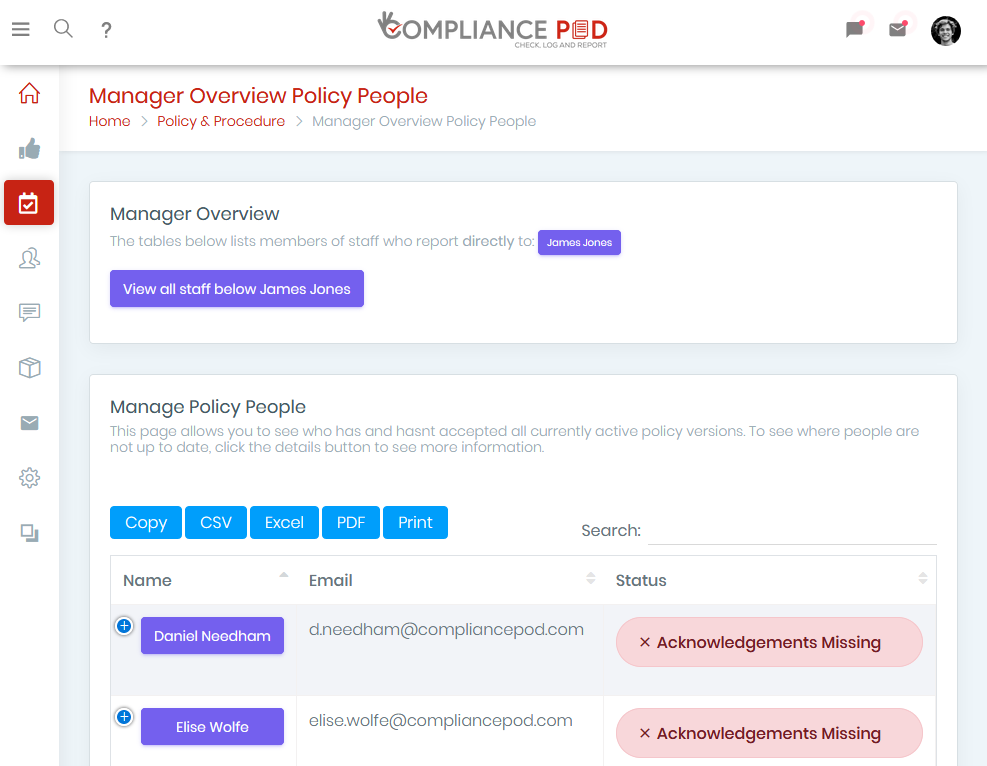 Policy & Procedure Manager
Policies and procedures are essential for any organisation. Taken together, policies and procedures provide a roadmap for day-to-day operations. They ensure compliance with applicable laws and regulations, give guidance for decision-making, and increase the efficiency and effectiveness of internal processes.
Unfortunately, employees often perceive policies and procedures to be a dry and boring subject and don't always appreciate their importance. Policies and procedures won't work in your organisation if your employees don't follow them, or worse, don't even know about or understand them.
Most organisations use internal domains, SharePoint or Google Docs to store their policies, associated procedures and forms. Whilst these solutions offer a hierarchical folder structure, shared access to staff and search tools, their broader functionality is very limited, which can cause significant operational and compliance issues, sometimes leading to regulatory sanction.
Compliance Pod Policy and Procedure Manager has been developed to give organisations a broad set of powerful tools to ensure that policies and procedures are kept up to date, that staff have read and understood them and that those published on public forums are always the latest versions.
All the functionality outlined below is highly configurable, yet incredibly easy to use, for both policy administrators and staff.
Policy and Procedure Administration
Policy and Procedure Manager provides administrators with an intuitive management portal to control the creation, updating and publishing of policies
Each policy allows you to upload multiple documents in PDF, Microsoft Office and a wide range of other file formats, allowing you to group associated procedures and work sheets with the overriding policy
In addition to documents, you can also upload other content to a policy, such as embedded videos, which can be used to provide detailed instructions to staff to aid them in completing tasks
All policies and associated documents have full version control functionality, old versions are archived and can be easily accessed and reviewed as required
All actions performed within the system are tracked and any changes can be audited to identify when a change was actioned and by whom
Policies can be organised into user defined categories and for each policy you can create associated keyword tags to facilitate quick search and retrieval
If you use a keyword search to look for a document, the system will analyse the document name, any keyword tags you have created and the text of the document itself to return results
Next review date is set for each policy and document within that policy and this is tracked by the system and administrators will be alerted to upcoming and passed review dates
When a policy is created, you select the members of staff the policy applies to, often this is all staff but you can also make certain policies only available to those in specific locations, departments or job roles and can even exclude selected individuals if required
Only staff with administrator privileges can add or update policies
Policy Libraries and Publishing
It is critically important that all stakeholders can easily access policies and that the current policy is the only one in use across the organisation.
When you create a policy in Compliance Pod you are in fact creating a microsite (mini website) which hosts all the files related to that policy
The microsite is hosted on a secure server and is accessed via a unique weblink
To create a basic policy library for staff, the weblinks to the policies can be collated into a collection (online searchable index) which can be accessed from any web browser and as such, can be easily incorporated into your existing infrastructure
When publishing policies on a website, simply link to the microsite URL
When an administrator creates a new policy, or makes a change to an existing policy, the policy microsite is instantly updated, and as everyone is accessing the policy from the microsite, there is no chance of outdated policies being in circulation, unless they are in print, nothing we can do about that!
When a user accesses a policy, documents in PDF format can be viewed within the microsite and other file formats can be opened in the relevant programme e.g. Microsoft Office applications
Staff who are active users of the Compliance Pod platform, can access all policies relevant to them via their personal policy library, either online or via the mobile app and when changes are made, they will be alerted via the systems in built messaging system
Distributing policies to staff and compliance testing
Compliance Pod incorporates a powerful policy distribution system that allows you to ensure that all relevant staff are aware of policy changes, acknowledge they have read them and where required, test that they have understood them
When you create or update a policy you have the option to send that policy to staff via email, in-app message or text in the form of a unique link
If you designate the policy as Mandatory, when a member of staff opens the link, they will be asked to click to confirm that they have read and understood the policy
An administration tool will allow you to track which members of staff have acknowledged understanding of Mandatory policies and you can send reminder emails, in-app and text messages to those who have not yet responded
If you want to ensure staff have read and understood a policy, you can add another step by creating a survey or test within that policy that staff must complete after reading the material:

Quickly create, yes/no, multiple choice and dropdown questions and set a pass rate
When staff open the policy, they can review the content of the microsite and are then directed to take the test
If they hit the required pass rate the system flags that member of staff as compliant in that policy
If they fail the test, they will have to take the test again until they pass, this doesn't have to be immediately but until they pass, they won't be compliant in that policy

The survey system is fully incorporated into the system and Managers can see which of their staff have taken the test, who has passed/failed and their scores, you can also see how long staff took to complete the test to help eliminate cheating
Whilst the survey system is usually used to test the understanding of new or significantly altered policies, some organisations periodically re-test their staff in their understanding of key policies by simply redistributing the policy every few months
We believe that through listening to, and understanding the challenges faced by a wide range of organisations, across multiple sectors, we have created a highly flexible and uniquely powerful solution for managing policies and procedures.
Ready to talk?
Get in touch with us today to see how we can help you and your business.