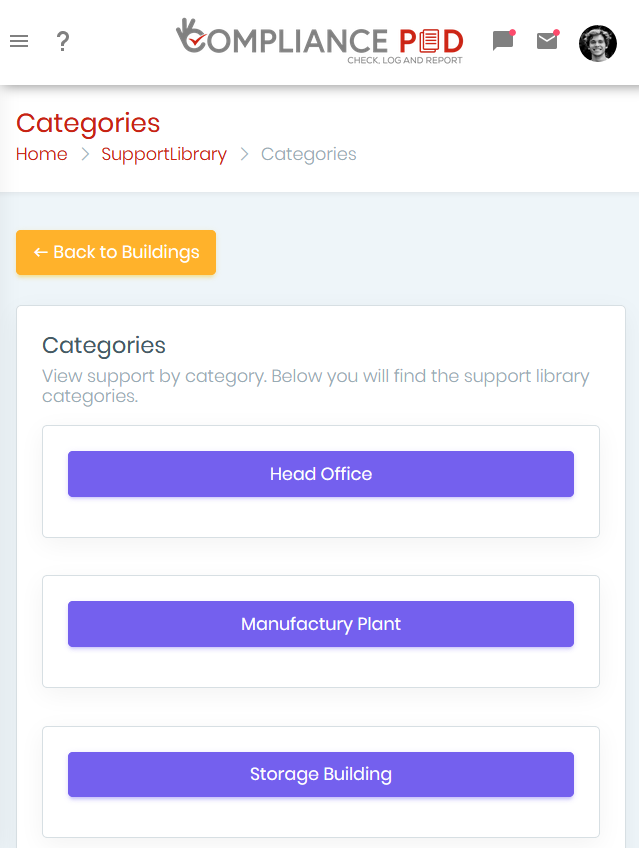 Manage Your Compliance On The Move
The world is changing fast and it can be a challenge to adapt how your organisation operates, in order to take full advantage of the latest developments in technology.
Laptops and email are nothing new, but the world is still adapting to the opportunities that smartphones have created to improve communication and streamline operational practices in the workplace. As a result, we have introduced a compliance management mobile app, a means of managing your compliance on the go.
Almost everyone now has a smartphone and most people have adapted to using their device to manage and enrich all aspects of their lives. It makes sense that all the benefits this technology brings should also be harnessed by employers, to improve how their business operates and to make employees work lives easier and more productive.
Adopt A Mobile Approach
For remote and mobile workers, being able to access the systems they interact with to do their job, via their smartphone, makes absolute sense. However, it also makes sense for all your staff to have an app for work in the same way they have an app for every other aspect of their lives.
We understand that not all organisations are currently in a position to roll a mobile app out to all their employees and Compliance Pod doesn't rely on all, or indeed any users accessing the system via the app.
However, staff being able to access and interact with the information and workflows within Compliance Pod, via a mobile device, is a game-changer for some roles and will deliver increased benefits to your whole organisation, the wider the practice is adopted.
App Features
Here are just some of the features and benefits of the compliance management mobile app:
Organisational branding and colour scheme

Customisable tabs allow you to add and remove content to suit your needs

Based on system user privileges (

custom permissions

), staff only see the parts of the system and information they need to do their job, making the app streamlined and incredibly easy to use

Link the compliance management mobile app to the other systems you use, allowing your staff to autologin to HR software or other internal systems via the app
You can interact with all the applications available within the online platform via the  compliance management mobile app, with additional features and functions optimised for mobile

Staff can access policies, procedures and forms directly from the app and when you create new policies or update existing ones, the app will notify staff of the change and ask them to read, acknowledge and even complete a test of their understanding, if desired – requires

policy and procedure management software system application

Service engineers, IT Support, Facilities and other appropriate staff can access and interact with their individual worklists, generated by both the

compliance tasks system

and

reactive task management system

applications, on the move, no need to return to a PC to update the system and they will pick up new tasks immediately

Management staff can use the 'skills search' feature of Staff Training Manager from the compliance management mobile app to identify suitably qualified staff to carry out tasks
The Compliance Pod mobile app gives you all the tools you need to improve the flow and accessibility of information across your organisation, remove barriers to workflow and significantly increase overall efficiency and productivity.
Why Do You Need A Compliance Management Mobile App?
Utilise Your Own Branding
We're sure it comes as no surprise that one of the main benefits of a compliance management mobile app is working remotely. Providing compliance management software that can be accessed and utilised on the go, can prove to be an invaluable asset.
The best part of not only our mobile app but every one of the Compliance Pod applications is that they can also be trialled for free. Looking for a compliance solution but not ready to commit completely, that's completely fine – Book a demo today.
All of our Compliance Pod applications are fully white-label, meaning you can customise both the mobile app and the desktop application to your heart's content. Change logos, colour themes, branding to make your software feel more like your own.
Why Could Benefit From A Compliance Management Mobile App?
Client-facing Organisations
Our compliance management mobile app doesn't just provide a means to level up your compliance efforts, it provides improved internal communication, task management and so much more.
Keep your remote workers in the loop with a dedicated app.
Much like remote workers, sales workers can often spend most of their time away from their desk – leaving little time for screen time.
No worries, with our app the sales team can take work with them. Access internal documents, chat with other members, improve productivity and communication with the built-in mobile app.
If your business deals with a lot of clients, nine times out of ten, your organisation is a big enough size that warrants different departments. However, with separate departments comes the added challenge of staying in touch and providing a seamless experience to the customers.
Our compliance management mobile app, allows you to do this,  at your desk, on the way to the kitchen or on the train.
Get in touch to learn more about Compliance Pod and our
Compliance Management Software.
Book a demo
today to give our compliance software a try!