Discover Powerful Single Sign-On Solutions 
In the modern world, organisations use multiple software systems to run their operations. Getting the balance right between ease of access and data security can be a challenge. Single sign-on (SSO) answers these demands seamlessly.
If your organisation utilises Office365 or Google single sign-on, your staff will be able to log into Compliance Pod using their organisational username and password – no need to remember another one.
It's so easy to take advantage of single sign-on authentication. Simply sign up for a free trial and try it out for yourself.
Experience Convenience With Single Sign-On
Our single sign-on authentication solutions provide both simplicity and convenience to an otherwise long and laborious process. Not only that but finding compliance management software with all the bells and whistles, that also provides integration and simplicity is difficult.
Compliance Pod introduces a solution that integrates numerous applications, task management, internal communication, employee training management and pairs it with both a white-label front-facing user interface and simple single sign-on authentication.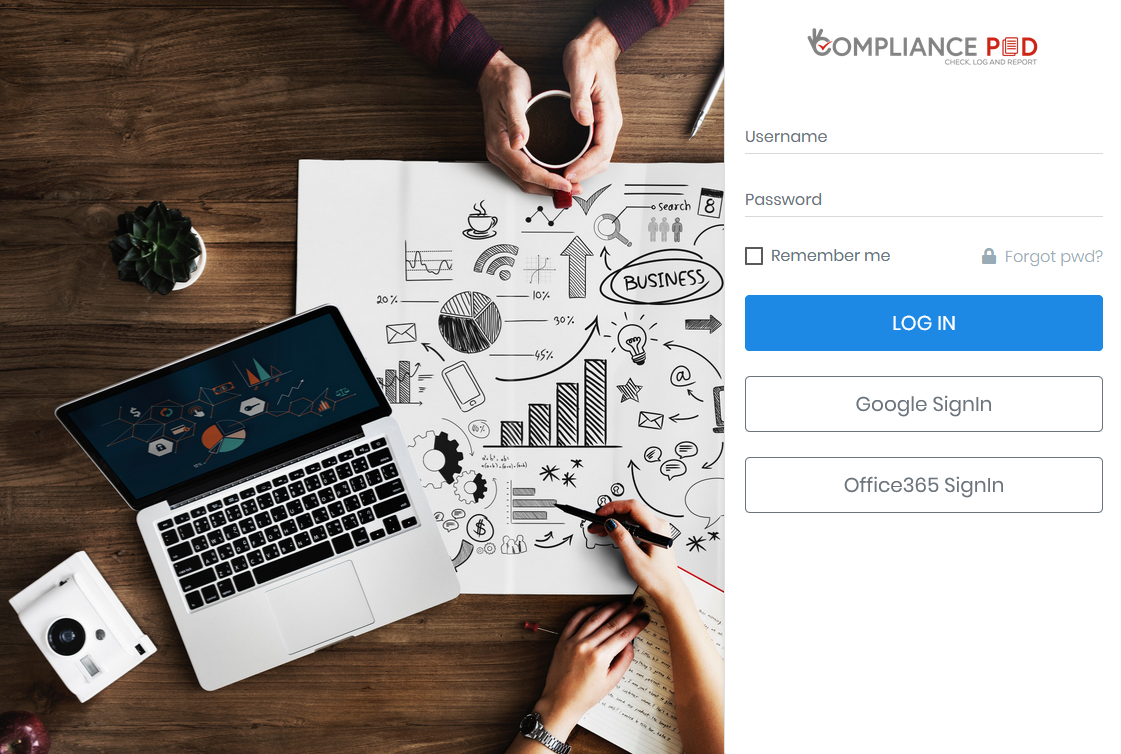 Single sign-on authentication is a scheme that allows users to sign in with a single login on several separate, yet related software systems. This is often achieved through utilising the Lightweight Directory Access Protocol and stored LDAP databases on servers.
Our single sign-on authentication solution utilises Office365 and Google single sign-on to provide a seamless, simple experience navigating from one software system to another.
Why Do You Need Single Sign-On Authentication?
Minimises Support Requests
Having numerous logins can require a secured password database, that can be filled with tens to hundreds of login details. Managing these, ensuring details are up-to-date takes time, not to mention if you get locked out of your account. Single-sign on saves on precious time.
If you have one central login that you use to access numerous software systems, that is protected behind two-factor authentication (or 2FA) this is the most secure way to keep your details safe. Gone are the days of having endless lists of login details – have one secure login with single sign-on authentication.
Help desks can be overloaded with requests to reset passwords, managing account details and set up new accounts etc. this can be a massive burden on the members of staff. This can all be relieved with the help of single sign-on authentication solutions.
Why Could Benefit From Single Sign-On Authentication?
Anyone and everyone can benefit from single sign-on authentication, it saves time, stress and helps keep your personal information safe from bad guys. Whether you're an individual looking for convenience or a corporate organisation looking for productivity, single sign-on authentication is a sure-fire way to do so.
While information-technology departments are never going to be rid of endless usernames, passwords and keys. Single sign-on enables a more seamless and simple solution to managing numerous support requests.
If your business is online, whether you're a software reseller, provide a marketing system etc. managing logins is a pain point. Providing single sign-on authentication can reduce the number of support tickets and keep your customers happy and connected for longer.
Get in touch to learn more about Compliance Pod and our
Compliance Management Software.
Book a demo
today to give our compliance software a try!