Making Software Your Own
Compliance Pod is a customisable 'White Label' solution which allows you to easily re-brand both the online platform and mobile app in line with your organisation's brand style guide.
Replace the Compliance Pod logo with your own and select the primary and secondary colours to instantly re-brand the system as your own. In combination with the high level of customisation and configuration options, re-branding the system will give you the feeling that it's your system, built just for you.
It's so easy you can do it yourself with our white label SAAS software, but we will be happy to take care of it as part of the implementation service, at no extra charge.

White Label Software That Integrates Into The Inner Workings Of Your Business
Finding software that seamlessly integrates into the processes of your business can be one difficult feat. However, with our specialised white-label SAAS software you don't have to worry. We provide a range of white-label software solutions to enable your business to run smoothly, all with a customisable intuitive interface. 
Take advantage of a range of white-label software products that enable you to gather, manage and report on key data within your organisation. Each of our white label products provides insight into different areas of your business when combined linking that data together to paint a fuller picture.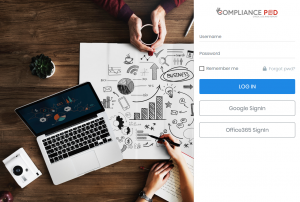 Why Do You Need White Label Software?
Focus
By implementing specialist white-label software it provides organisations with focus.
Investing in an already-existing software solution means your business can concentrate their efforts on their core competencies and deliver their organisation goals in a timely manner.
Savings
Investing in bespoke software can cost upwards of £10,000 and take several months to come to fruition. Compliance Pod offers a range of white-label SAAS compliance management software solutions to help you save on costs and time.
Who Could Benefit From White Label Software?
Customer-facing Businesses
As an organisation that is, for the most part, client-facing it's integral that every piece of promotional material, every interaction is professional and high-quality. Our white-label software ensures a refined final product, that, unlike bespoke software, has its kinks already fixed, all with your name attached.
When your business is of a certain size, what was originally a few people would turn into whole departments that may not communicate as much, or at all. Utilising simple, packaged software can enable your organisation to reform the line of communication with automation, simplicity, all with your brand stamped on it.
Investing in white-label software is much cheaper than building software from scratch, smaller agencies can be looking at thousands of pounds with even more in changes down the line. For most agencies of a smaller size justifying such costs just isn't feasible, which is where our software packages come along.
Get in touch to learn more about Compliance Pod and our
Compliance Management Software.
Book a demo
today to give our compliance software a try!