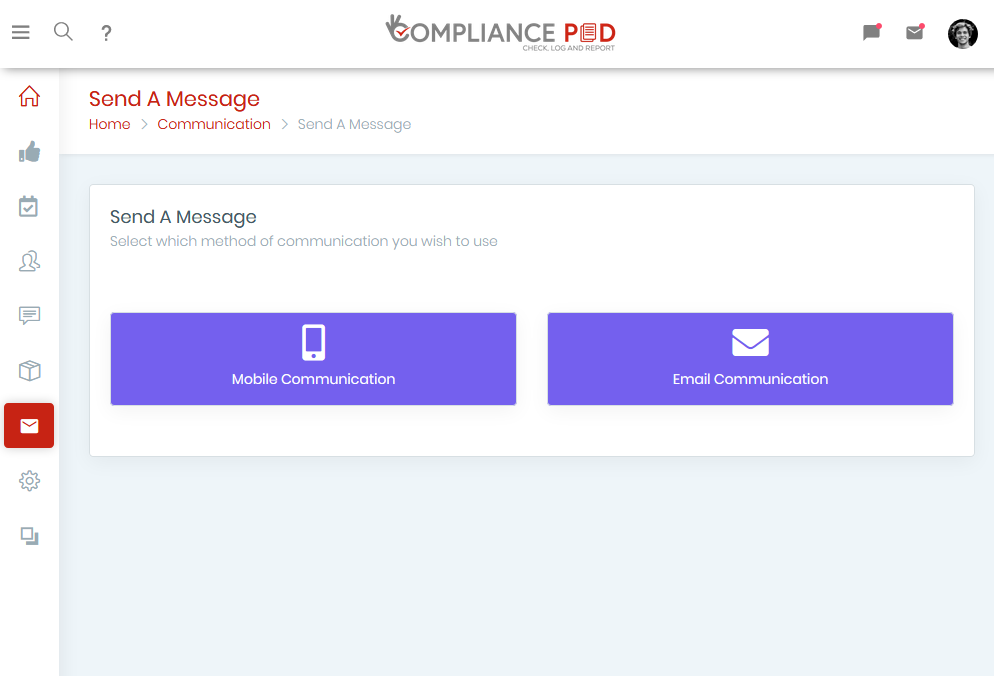 Communications
For any organisation in the world with more than 1 employee, communication is a challenge and is regularly cited as a significant problem. Communication breakdown can breed uncertainty, insecurity, false assumption, resentment, conflict, not to mention leading to reduced operational inefficiency and potentially, catastrophic mistakes.
Communication Manager is designed to give you a range of powerful tools to communicate with your staff effectively, taking advantage of all modern communication technology. Whether you're conducting a business wide staff satisfaction survey, organising the Christmas party, launching a new initiative, closing the office in an emergency or simply need to tell Dave to return the laptop he borrowed, we've got you covered.
Because we believe good communication is critical in any organisation, and communication options are integrated into many of the Compliance Pod applications, Communication Manager is included in all packages.
Communicate with your staff instantly, choosing the most effective method to suit your needs
Send personalised individual and group messages to staff instantly via text, in app or email
You can create as many separate messaging accounts and concurrent inboxes as you like to allow you to have different accounts (virtual mobile numbers) for specific locations, departments or functions
Enable or disable replies as required
When sending short form messages, Compliance Pod automatically detects if a member of staff is a Compliance Pod App user and can send a free in-app message
Messaging groups are automatically created for locations, departments and roles with the ability to create an unlimited number of custom messaging groups
Full audit trail of all communications
Make collecting information from your staff, quick and easy, significantly reducing costly administration time
Quickly and easily create digital, online forms and surveys
Select from open text, drop down, multiple choice answers and more
Distribute to staff as a link via text, in-app message or email
Monitor responses with the option to send chase up messages to those who haven't responded
Easily collate and analyse response data within the system
Export completed form data to CSV to analyse in other systems as needed
Distribute documents and other dynamic content to staff and easily publish on websites and intranets
Utilising our Microsite technology, you can quickly and easily create mini websites
Microsites are branded with your logo and colour scheme
Microsites can host anything from a single PDF document to collections of documents, embedded videos, HTML content and links to external content
Once created, the link to a Microsite can be sent to staff via text, in-app or email, allowing you to distribute documents and information quickly and easily
Links to microsites can also be built into websites and intranets, allowing you to publish them
Ready to talk?
Get in touch with us today to see how we can help you and your business.