Asset Management
Asset management helps an organisation monitor and manage their assets using a systemised approach. Managed effectively, the benefits include improvements to productivity and efficiency which places an organisation in a better position to increase their return on investment.
For an asset management plan to be effective, it needs to be supported by an asset management system with the capabilities to monitor and maintain things of value – both tangible and intangible.
By working across an organisations departments, locations and facilities; assets such as buildings/premises, vehicles, tools, equipment, IT infrastructure, documents and supplier contracts can be reviewed and managed efficiently from one central point. Such collaborative working enables an organisation to reduce overall capital expenditure and operating expenditure relating to its assets.
The aim of the Compliance Pod Asset Manager software is to enable organisations to manage the movement, maintenance and lifecycle of all their assets, as effectively and efficiently as possible.
A highly flexible solution that can be applied to manage any type of asset, in any organisation.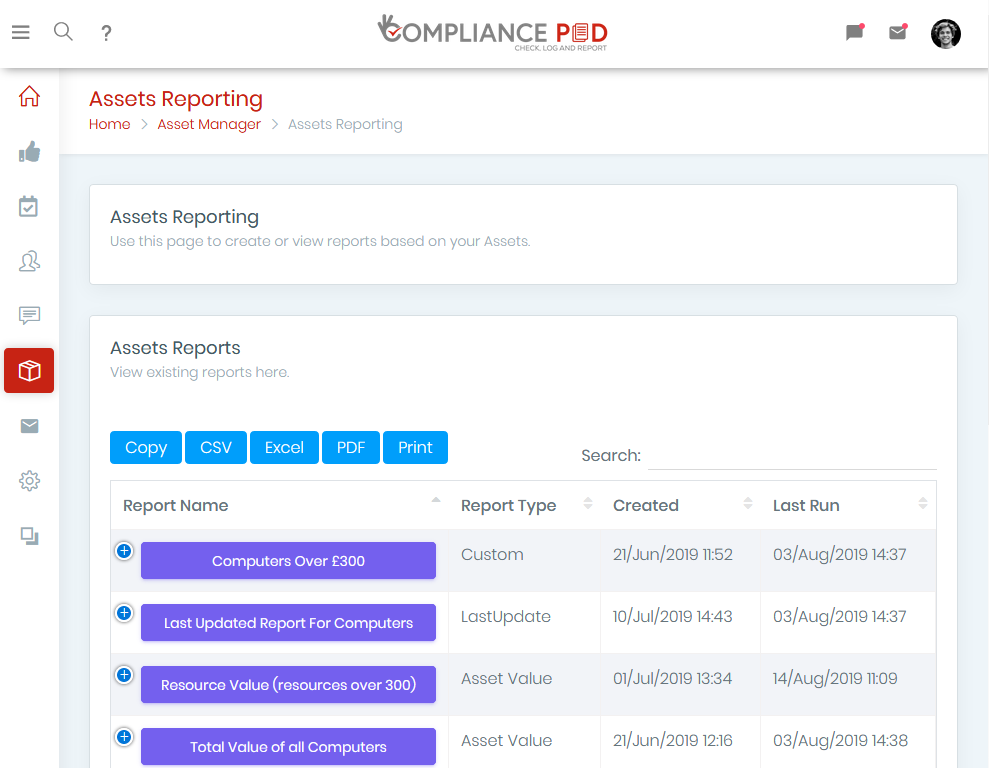 Online Asset Management and Reporting
Tangible/Fixed Assets/PP&E: buildings & premises, plant & machinery, IT equipment, network infrastructure, vehicles, tools & other mobile equipment, furniture and any other tangible, physical item you want to manage
Intangible Assets: commercial contracts, service agreements, software licences, certifications, warranties, insurance policies, building plans. disaster recovery plans
Pre-configured with common asset types and relevant data collection fields
Total flexibility to add/remove asset types and data collection fields to suit your specific needs with currency, free text, date and drop-down data collection field options
Professional consultation available to configure the system to meet your specific needs and if required, we can do all the work for you to design a totally bespoke database structure for your organisation
Web based, easily accessible, highly configurable, fully responsive management and reporting system
Unlimited number of user accounts, with variable access rights controlled via the Compliance Pod platform
Access anytime, anywhere, from any device
Asset Tagging
QR asset tags, suitable for indoor and outdoor use
Provides a reliable identifier, and allows quick and simple smartphone scanning
Inexpensive, effective tagging solution
Mobile App
Utilises the Compliance Pod Mobile App to scan asset tags, and update information on the move
Access, search and retrieve asset information and documents stored in your asset register from your smartphone
Capture and attach photos and videos of your assets or locations from your smartphone
Quick asset audits
Advanced Reporting
Powerful reporting tools allow you to create a wide range of customised reports from all data stored in the database, if you collect it, you can report on it
Reports are updated daily, or on demand, and can be easily exported in multiple formats
Powerful, operational and management reporting at all levels across your organisation
Document uploads
Allows you to upload in a wide range of formats, and attach documents to asset records, great for contracts, manuals, service records and licences
Access key documents quickly and easily, wherever you are
Pictures & video storage
Allows quick and easy photo and video upload, storage and access
A visual record/audit relating to your assets and locations
Create instructional videos for maintaining equipment
Great for insurance claims, condition surveys and asset loans
Import/Export tools
A variety of tools to upload data from existing asset registers and other systems
Ability to add/edit bulk assets, saving loads of time
Export data and reports in a wide range of formats delivering friction-less transfer of data between systems
Service Delivery
We appreciate that every organisation faces a set of unique challenges and this must be reflected in the service plan. Our aim is to ensure that we create an implementation plan that best suits you. Available services include:
Consultation and development of a bespoke organisational asset database structure
Initial set up of user account permissions and asset data import from existing systems
Asset data collection and tagging services
Bespoke, organisation specific user training programme
On-site and/or online user training
Ongoing support, training and guidance – provided by a dedicated customer support team in the UK, at the end of a phone whenever you need them, no irritating online chat
Combine with Reactive Task Manager and Compliance Task Manager for more power
Asset Manager is particularly powerful when combined with Reactive Task Manager and Compliance & Scheduled Task Manager. Reactive maintenance/repair, planned preventative maintenance/servicing and compliance inspections/activities always relate to assets. By combining these three systems within the same platform, data can be linked and all planned maintenance and faults can be recorded against assets and locations. This allows incredibly powerful management reporting and a more integrated operation.
Ready to talk?
Get in touch with us today to see how we can help you and your business.